Kids Clinic has opened our 5th branch at Oasis Terraces, a new mall in Punggol.
Kids Clinic @ Punggol will be helmed by Dr Dave Ong, a paediatrician competent in all aspects of General Paediatrics and Newborn Care, with special interests in Respiratory, ENT and Skin conditions. He has great passion in patient education, and takes time to explain to parents any queries they may have about their child's condition.
Newborn Developmental Checks & Care
Vaccinations
(General and Travel)
Common Childhood
Illnesses
Women's Services for Mums*
(By our co-located O&G specialist)
Bringing specialist care closer to you
We are open on selected weekday nights and Sundays to offer more timely specialist care for our young patients.
Online appointment bookings are available to help you save time queuing in the clinic.
We provide specialised and quality care to cater to your child's growing health needs.
A New Women's and Children's Specialist Clinic Near You
To all mums and grandmums, Kids Clinic @ Punggol is located right next to our partnering O&G clinic, Astra Women's Specialists. For all your women's health needs and issues, our women's specialist care is easily within your reach.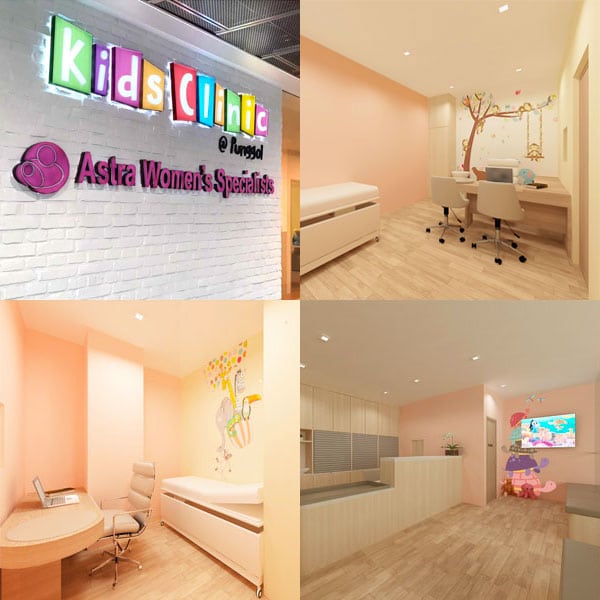 Book an appointment with Dr Dave Ong
CONTACT US
681 Punggol Drive
Oasis Terraces
#03-11
Singapore 820681
We accept both appointments & walk-ins.
Tel: (+65) 6817 8885
Email: [email protected]
CLINIC OPENING HOURS
We accept both appointments & walk-ins.
Mon & Wed: 9.00am-12.30pm, 2.00pm-3.30pm, 6.30pm-8.30pm
Tue & Thu: 9.00am-12.30pm
Fri: 9.00am-12.30pm, 6.30pm-8.30pm
Sun: 9.00am-12.30pm
Sat & PH: Closed
*FOR SUNDAYS: Closing time is subject to change depending on the volume of patients.
At Kids Clinic @ Punggol, we strive to provide the best patient experience possible. To achieve this, we have implemented a fair queue system for all our patients as follows:
1. Queue Priority For Urgent Cases
Patients called by their name (instead of a number) are urgent walk-in cases. The following are some examples of urgent cases with queue priority:
High Fever of 39°C & above

Shortness of Breath

Severe Vomiting and/or Vomiting of Blood

Severe Abdominal Pain

Fainting Spells

Seizures & Fits

Severe Allergic Reaction
If your child is showing signs of a life-threatening condition (e.g. severe injuries, no breathing or heartbeat, bluish skin, etc.), please call an ambulance at 995.
2. Queue System and Appointment Policy
Queue numbers may not move sequentially as we might be attending to appointments and urgent cases, in between walk-ins.
Please note walk-in patients are called by number. Appointment patients are called out by name.
We strive to attend to all appointment cases within 30 minutes of the allocated time.
We will hold your appointment for 30 minutes before the slot is freed up. If you arrive 30 mins after the time of your appointment, you will have to join the walk-in queue.
If you arrive earlier than your appointment slot, we will not be able to see you earlier.
3. Clinic Registration
Registration can only be done at the clinic. We do not do registration over the phone to be fair to all our patients.
Waiting time estimations will only be given at the point of registration in the clinic, and not over the phone (especially for busy sessions like Sunday mornings). This is because, depending on the time of arrival at the clinic after the phone call, the waiting time might have changed due to walk-in patients.
Please note that registration will end 30 min before our closing time but on Sundays, registration cut-off time is subject to change depending on the volume of patients. Surcharges apply thereafter.
4. Safe Distancing Measures
We will also be adopting strict precautionary measures in line with the MOH guidelines to protect you and your child.
Hence, we recommend patients to stand by around the mall for their turn.
If the waiting time is significantly long (for e.g. on Sun mornings), we might ask patients who live close by to wait at home. We will get in touch when there are about 2-3 patients before your turn.
1. For opening hours, Dr Dave's leave & last-minute clinic closures, visit:
Google Business Directory (Kids Clinic @ Punggol by SMG)
Website: www.kidsclinic.sg
Facebook: /kidsclinicsg
Instagram: @kidsclinicsg
Dr Dave's Instagram: @drdaveong
2. For booking an appointment:
Book via www.kidsclinic.sg (Fast response)
Email us at

[email protected]

(Fast response)
Call us at 6817 8885 (Lines are very often engaged, hence please book via website or email if possible)
3. For any other queries or concerns:
Email us at

[email protected]

(Fast response)
Call us at 68178885 (lines are very often engaged, hence please email us if possible)
Leave us a voice message on +65 6817 8885 (Fast response)
Follow Dr Dave on Instagram (@drdaveong) for important clinic updates and sharing of medical information!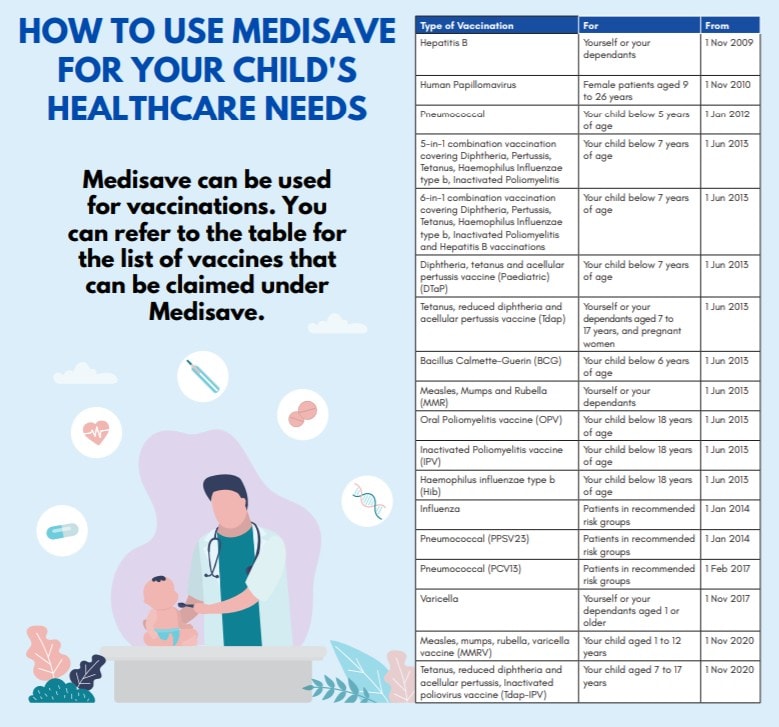 How the Medisave Claim Works:
1. Please bring your child's birth certificate and the CDA card for your vaccine appointment.
2. During registration, please inform our staff that you would like to use Medisave to pay for the vaccines.
4. You will have to pay for the vaccines first (using the CDA card/NETS/cash).
5. Our clinic staff will apply for the Medisave claim on your behalf.
6. Once the Medisave claim is approved, we will arrange for a reimbursement directly into your CDA account or via cheque/PayNow depending on your payment mode.
Please take note that the whole process will take about 6-8 weeks.
Medisave claims may not be approved if there are any problems or limitations with the account (insufficient funds etc.).
1. We may need to stop walk-in registration earlier than 12.30pm (e.g. 11.30am) if there are too many patients in the queue (e.g. 80) with too long waiting time (e.g. 4-5 hours).
2. Average walk-in waiting time on Sunday ranges from 2-5 hours, depending on which part of the queue you belong to.
3. As per protocol, we do not register walk-in patients into the queue via phone as it would be unfair for those who physically queued much earlier before clinic opening. You do not need to bring your child to register, you may go home after registration and bring your child back to clinic at the estimated time. We will also give you a call to remind, a few patients before your turn.
4. We are unable to give the exact waiting time over the phone (only a rough estimation) because waiting time would have changed by the time you reach our clinic, due to a constant influx of walk-in patients.