EVENTS: Baby World of Wonders (Dec 2019)
On 22 Dec 2019, Dr Chua Xiuzhen was invited to speak at the Baby World of Wonders seminar to a room full of new parents and their little ones. The little ones were 6-12 months old.
She equipped parents with important and informative tips on infant care and here's a summary of all the tips for those who missed it!
Your Baby's New Skills
Dr Chua started by talking about the growing stages of babies between 6 to 12 months old and explained how the baby's development is shown in their body language as they grow.. These signs can help parents identify what to do next for their child:
6-8 Months Old
Starts to pay more attention to what their hands can do
Holds their feet
Shakes toys/rattles
Rolls over
Babbles
Able to sit up
9-10 Months Old
Learns to crawl
Pulling on things to stand
Learns to use their index fingers
Understands simple words (e.g. No & Bye)
Localises sound
11-12 Months Old
Learns to call "Papa" & "Mama"
Stands without support
Walks with support
Learns to clap, wave goodbye
Develops a pincer grip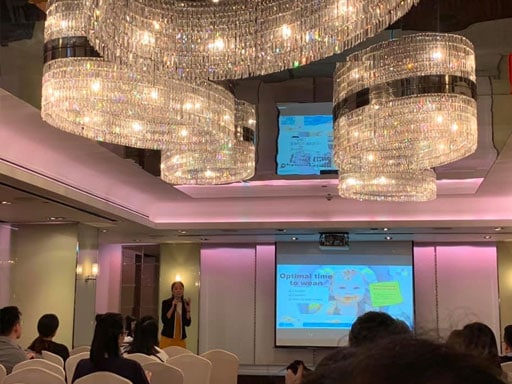 Weaning & Feeding Your Baby
Weaning is an important stage for a baby as it is when they get an additional source of nutrients, develop their chewing skills and learn new social skills and independence. So when should parents start weaning their child? Dr Chua recommends the most optimal time to wean is when your baby is ready, ideally between 4 -6 months old.
Here are some signs to tell when your baby is ready to start weaning:
Has good head to neck control
Sits with support
Displays chewing motions
Attempts to put things into their mouth
Does not push out solid food placed on the tongue
During the feeding progression, parents should also increase the food intake slowly from teaspoon to tablespoon-size gradually, starting with iron-rich foods that are pureed. Dr Chua recommends adding new foods one at a time, with at least 3 days apart as this can help identify potential underlying food allergies that a baby might have.
Common Infant Problems & Vaccinations
While problems such as a cold, cough, fever and diarrhoea are pretty common in infants, parents must visit a doctor if their baby shows signs of:
Difficulty breathing
Difficulty feeding
Poor diaper output
Persistent vomiting
Green vomitus
Parents should also ensure vaccinations are up to date.
Optimal Sleep Durations for Babies
Infants sleep on average for 9-10 hours in the night and naps on average for 3-4 hours. Factors such as environment and sleep habits can determine if your baby has optimal sleep.
Preventing Dental Caries in Babies
Dr Chua ended her talk by sharing the importance of keeping the little ones free of dental decay!
0-6 Months Old
Before they grow their first tooth, parents can help their babies clean their mouths with gauze or a soft cloth, gently wiping the sides of their mouth and gums. This creates familiarity with dental hygiene procedures so that they feel more comfortable seeing a dentist as they grow up.
6-12 Months Old
Once teeth start appearing, parents can get a finger brush to help their infants clean their teeth. Finger brushes are widely available.
12-18 Months Old
Once your infant has learned to spit, parents can introduce the use of fluoride toothpaste. She also recommends brushing twice a day as soon as the first tooth appears and teaching the child to drink from a cup as soon as they can hold one to help fight tooth decay.
We hope all the above tips are useful to all new and existing parents!
DR CHUA XIUZHEN
Paediatrician
MBBS (S'pore), MRCPCH (RCPCH, UK), MMed (Paed), FAMS (Paed)