What is Cow's Milk Allergy?
Cow's milk allergy or dairy allergy is commonly seen in infants, although it can be observed in children of all ages. It is caused when the immune system has an allergic reaction to the protein found in cow's milk. Most children will usually outgrow this condition by ages 3 to 5.
Is Cow's Milk Allergy Similar to Lactose Intolerance?
Cow's milk allergy is often confused with lactose intolerance as they both share similar signs and symptoms. Cow's milk allergy occurs when the immune system has an allergic reaction to the protein found in cow's milk. Lactose intolerance occurs when the digestive system is incapable of digesting lactose (sugar) in the milk fully.
Does My Baby have Cow's Milk Allergy?
It is not always easy to tell when a baby has cow's milk allergy. Infants who are breastfed have a lower risk of developing a milk allergy than those who are formula-fed. Some babies may display an allergic reaction soon after the cow's milk is introduced, while others may show signs hours or even days later. Symptoms displayed may also vary between individuals, including:
Wheezing
Shortness of breath
Coughing
Stomach discomfort
Vomiting
Diarrhoea
Blood in stools
Hives
Swelling
Loss of appetite
Irritability (Colicky behaviour, poor sleeping patterns)
If you suspect your baby has cow's milk allergy, it is important to see a paediatrician immediately to test and diagnose their condition.
How do I Care for My Baby with Cow's Milk Allergy?
If you are breastfeeding:
It is important that you remove cow's milk and dairy products from your own diet as milk protein can be passed through your breast milk during feeding. You can do this for a trial period to see if your baby's symptoms improve. Be extra mindful and always check food labels for presence of milk or milk-based ingredients. Your paediatrician may involve a dietitian to advice on diet changes and how to replace nutrients that may be missed when excluding cow's milk from your baby's diet.

If you are formula-feeding:
Your paediatrician may advise you to switch your baby to a hypoallergenic or an extensively hydrolyzed formula as these are usually least likely to trigger an allergic reaction. Do not embark on a dairy-free diet for your baby unless under the advice of your doctor.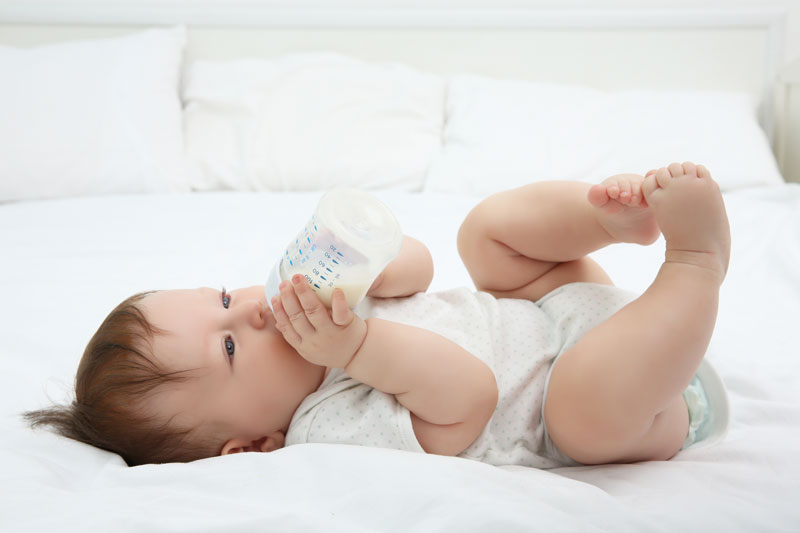 Can My Baby be Allergic to Other Foods too?
Since protein in goat's and sheep's milk are similar, there may be a cross-reactivity to these products if your baby has cow's milk allergy. Hence, it is not recommended to substitute cow's milk with similar products as your baby could also be allergic to these products. You may wish to
consult your paediatrician
before introducing possible allergy-inducing such as eggs, nuts, soy, wheat, shellfish and fish to your child.