Cradle cap, also known as infantile seborrheic dermatitis, causes crusty or scaly patches over your baby's scalp. A similar condition may be noticed over the ears, nose and eyebrows. More often than not, this condition is harmless, painless and not itchy. It is non-contagious and typically resolves by 6-12 months old.
Does My Child have Cradle Cap?
Cradle cap in babies is characterised by:
Thick crusting or scaly patches over the scalp
White or yellow scales accompanied by oily or dry skin
Redness may be observed on the scalp
Flaky skin
While this condition is harmless, seek medical help if you notice blisters or pimples in addition to the patches, if the affected area is increasing in size and spreading to other parts of the body, or if the condition persists in babies over 12 months of age.
How do I Care for My Child with Cradle Cap?
Your doctor might advise you to keep your baby's scalp lubricated by applying baby oil or olive oil over the affected area about 15 to 30 minutes before a bath. Use a towel to wipe off the oil in a circular movement. Shampooing your baby's scalp daily will also help in removing extra oil and keeping the scalp clean. Gently brush your child's hair with a soft brush to loosen the cradle cap, taking care not to scratch or peel the cap off.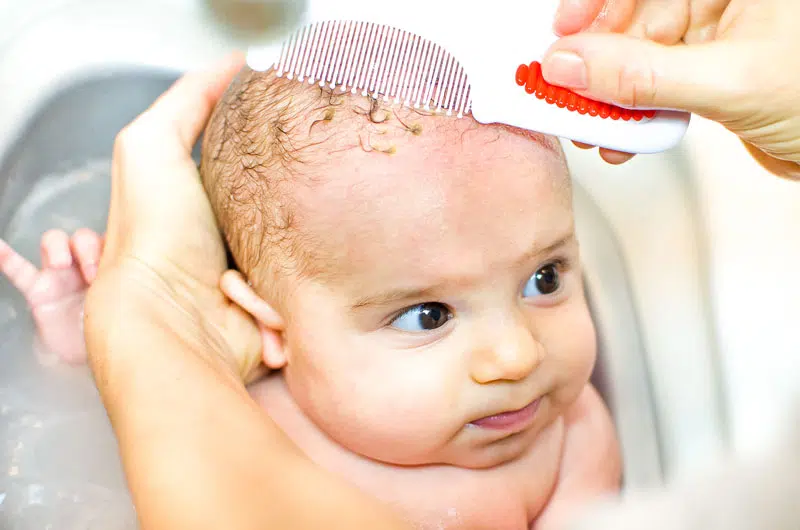 Your doctor may also prescribe some topical cream for the condition. Apply a thin layer over the affected areas as instructed after drying your baby's hair. Once your child's condition is under control, parents can prevent further occurrence by regularly shampooing and brushing the child's scalp.