Oral thrush is a common yeast infection observed in babies and young children. It forms a layer of white patches on the inner cheeks and tongue. However, the condition is usually resolved with treatment.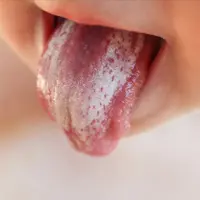 Oral thrush is caused by the Candida albicans yeast fungus. This fungus occurs naturally in the mouth, and typically does not cause any issues. However, an over-multiplication of the fungus can cause an infection to occur with weakened immunity. Babies are at a higher risk of getting infected with oral thrush as their immune systems have yet to fully develop.
Oral thrush may also be passed from mother to child. Expectant mothers with vaginal yeast infection can also pass the infection to their newborn at birth. If the mother develops a thrush infection at her nipples, she may also spread this to the baby during breastfeeding.
Babies receiving antibiotic treatment are at risk as these drugs will lower good bacteria levels, allowing fungus levels to rise in the mouth.
How do I Care for a Child with Oral Thrush?
Oral thrush in babies and young children is generally not severe. However, seek medical advice if you notice any changes in your child's general behaviour or eating habits. You can reduce your child's risk of oral thrush with some simple measures:
Sterilise pacifiers, bottles, teats and other feeding equipment regularly
Clean and disinfect toys that your child frequently places in his mouth
Practice good oral hygiene by cleaning your child's mouth
Practice good hand hygiene to reduce the spread of infection