Running a fever is the body's natural response when fighting an infection. It is a presenting symptom that turns on the body's immune system, rather than a disease. A fever temperature ranging between 37.5 to 40 degrees Celsius is not necessarily harmful. In general, the height of the temperature does not relate to the severity of the illness.
Most fevers are caused by viral illnesses, and even fewer are caused by bacterial illnesses. Viral infections typically include colds and flu and cannot be cured by antibiotics. A bacterial infection may follow after a viral infection, usually affecting the sinuses, lungs or ears, and will require antibiotics to cure.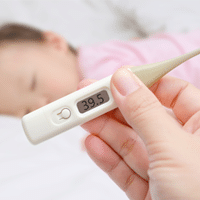 What Medicines should I Give My Child for Fever?
Use medication only if your child's temperature is above 37.5 degrees Celsius and preferably if your child is feeling discomfort from the fever. Be sure to administer the correct dosage of medication according to your child's weight every 4 to 6 hourly.
If inadequate medication is given, your child's temperature will not be reduced. Unless advised by a doctor, Brufen can be used for children over 1 year old with a fever of over 38.5 degrees Celsius, to be taken preferably after food. The effect will usually bring the temperature down for 6 to 8 hours, making it more effective than Paracetamol.
Are There Other Ways to Bring Down a Fever?
Encourage fluid intake to ensure your child stays hydrated
Dress your child in light clothing
Ensure the indoor temperature is kept cool and room is well-ventilated
If the temperature persists, try tepid sponging in between the medication dosages:

Use lukewarm tap water for sponging (do not use iced water)
Remove clothing and cover the child with a towel
Expose only the sponged area at any one time, dab dry after
Apply the compress over the child's forehead, nape of neck, armpits and groin
Ensure there is no strong wind blowing during the sponging
Do not sponge the child for more than 30 minutes
Stop if the child starts to shiver or turn blue
When should I Seek Medical Treatment for My Child?
Consult a doctor if your infant or child is:
Under 2 months old but has a temperature higher than 37.5 degrees Celsius
Under 3 years old but has a temperature higher than 40 degrees Celsius
Complaining of neck pain
Unable to swallow
Looks or acts very sickly
Feeding poorly, vomiting or lethargic
Very drowsy or difficult to wake
Presenting with rashes