On 14 March 2020, Dr Dave Ong was an invited speaker at a seminar held at OLA, the new and upcoming executive condominium. He equipped parents with important and informative tips on how to build your child's immunity. We have summarised all the key points from his talk for those who missed the session.
1. Breastfeeding
Parents can consider exclusively breastfeeding their newborn babies for at least 4 months. Dr Dave advised mums to not be stressed if they find their breast milk supply is low and reassured them that formula milk is a great alternative to breast milk.
2. Hand Hygiene
Dr Dave emphasised on the importance of washing hands with soap especially after sneezing or coughing, going to the bathroom, before and after eating and after coming back from school/outdoors.
3. Vaccinations
Ensure your children have completed their vaccinations according to the National Immunisation Schedule.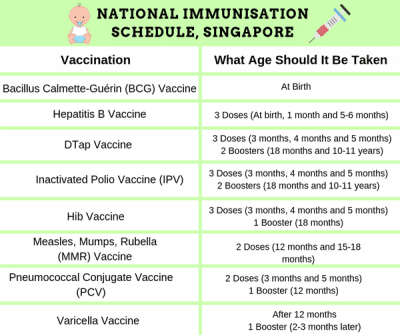 Apart from the compulsory vaccinations, there are some optional vaccinations which are important: Rotavirus, Influenza, Chickenpox, Hepatitis A. Furthermore, if you are planning on travelling, you should consult your paediatrician at least 2-4 weeks before travel to find out what travel vaccinations might be needed.
4. Sufficient Sleep
Not having enough sleep can affect your children's immunity. Read more on how you can inculcate good sleep habits in your children here.
5. Healthy and Balanced Diet
Having a healthy and balanced diet will help boost your children's immunity. You can do this by making sure your children eat plenty of fruits and vegetables in various colours.
6. Exercise
In addition to eating healthy, regular exercise is also important. By making it a family activity, not only will you get bonding timing with your children, everyone in the family will be fit and healthy.
7. Stress Management
For older children especially, you should ensure they have time set aside to relax. This is important for you too. Good time management also helps to reduce stress levels.
8. No Smoking
It is important to make sure your children are not exposed to any type of cigarette smoke.
9. Supplements
You can consider adding supplements to your children's diet but if you are ever in doubt, always check with your paediatrician. Here are some recommended supplements:
Vitamin C
Zinc
Baker's Yeast Beta Glucan (BYBG)
10. Probiotics & Prebiotics
Apart from supplements, probiotics and prebiotics are good additions to your children's diets.
Probiotics
These are live bacteria found in certain foods or supplements. They can provide numerous health benefits. Here are a list of foods with probiotics:
Yoghurt
Cultured milk drinks with probiotics
Probiotic supplements
Fermented food e.g. kimchi, certain pickles
Dr Dave highlighted that not all probiotics have similar actions/functions and it depends on the specific strain and dosage. Probiotics can be used alongside medical treatment but cannot completely replace medical therapy. They are generally safe, except in patients with very compromised immune systems. When in doubt, you can always consult your PD who will be able to advise you further.
Prebiotics
These substances come from types of carbohydrates (mostly fiber) that we cannot digest. This is "food" for the probiotics. Foods that contain prebiotics include:
Cultured milk drinks with prebiotics
Legumes, beans & peas
Oats
Bananas
Berries
Asparagus
Garlic
Leeks
Onion
Dr Dave Ong's place of practice is at
Kids Clinic @ Punggol
, with Sunday and weekday evening appointments available for busy parents. He is also an accredited paediatrician at Thomson Medical Centre, and expecting parents may request for him to be their attending paediatrician for their newborn's assessment.