Prelit Events organised the Raising A Healthy Child seminar over at Great Eastern on 21st September. Our paediatrician,
Dr Oh Meng Choo
from Kids Clinic @ Bishan was one of the invited speakers.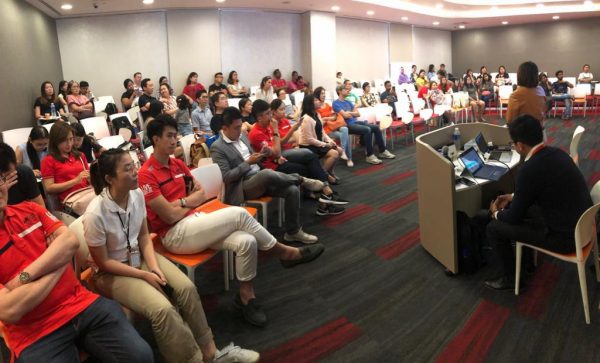 She spoke primarily about how parents can cultivate healthy eating habits in their children. She also reminded parents that their child's well-being is not just limited to healthy foods but also includes other aspects such as limiting screen time, getting sufficient
sleep
, exercising regularly and also ensuring their safety. Here are the key points from her session:
Your Eating Habits During Pregnancy Impacts Your Newborn?
Dr Oh explained what you eat during your pregnancy provides essential building blocks for brain development, healthy growth and a strong immune system in your child. You can read up more on the essential nutrients pregnant mummies need here.
What Should You Feed Your Newborn?
Once your baby is born, parents have to decide between formula feeding and breastfeeding. Dr Oh reassured parents that both breastfeeding and formula feeding have their own advantages but how much to feed and the frequency of feeding is subjective to the child. To read more about feeding as your child grows, check out Health Topics A to Z: Feeding Progression. She also highlighted the importance of weaning and what foods you can introduce to your baby during this stage of their growth.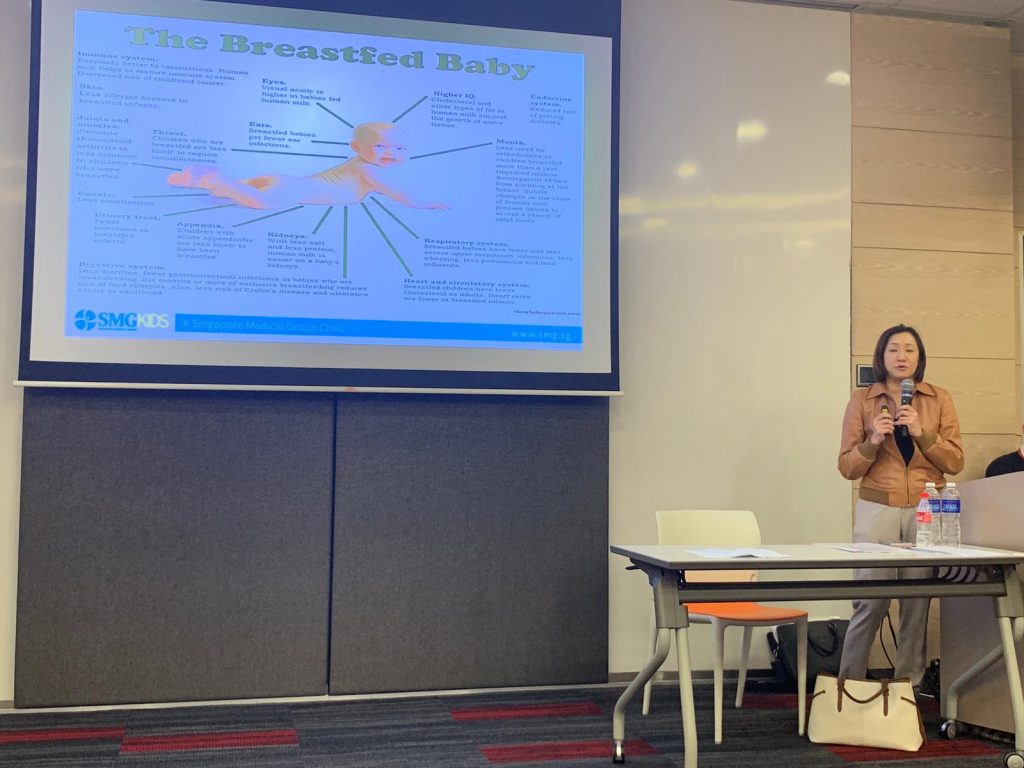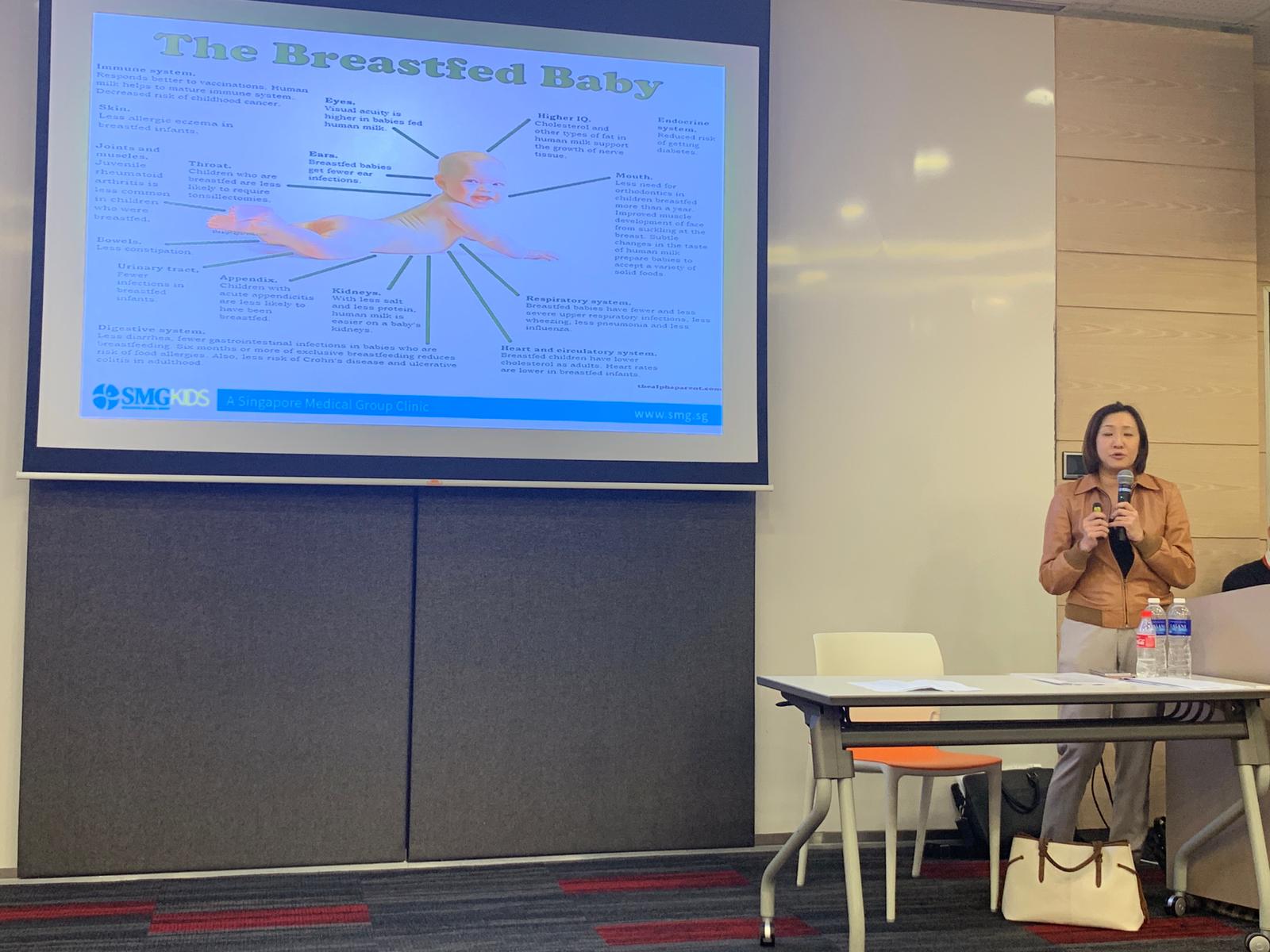 Dr Oh reminded parents that it often takes repeated exposure of about 8-10 times before their children accept and eat many of the foods given to them. 25% of parents will give up after 1-2 offers but it is important to keep trying. You can read more on
how to manage fussy eaters here
.
What Foods Should Children Eat for Healthy Brain Development?
There are certain nutrients that are necessary for healthy brain development.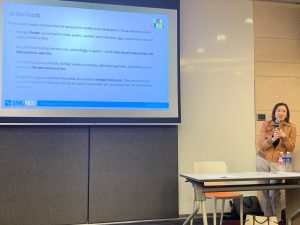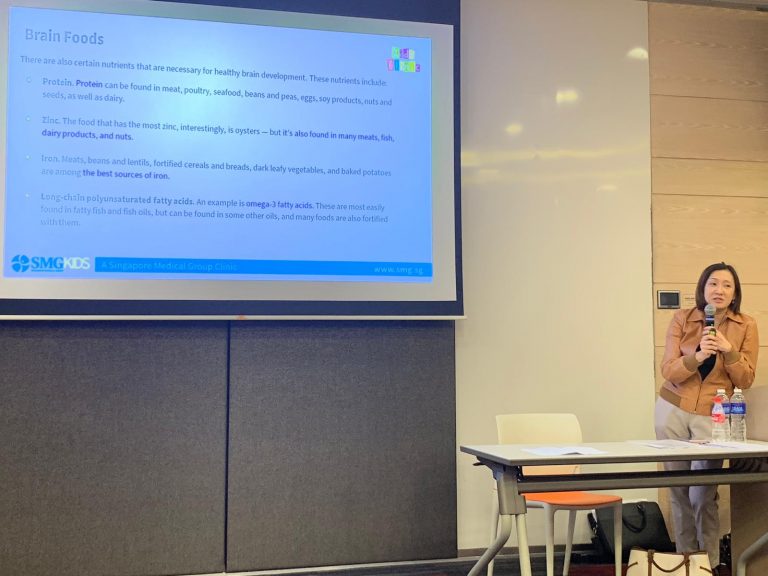 Essential Nutrients

What Food Contain Such Nutrients

Meat, poultry, seafood, beans and peas, eggs, soy products, nuts and seeds, as well as dairy

Most types of meats, fish, dairy products, and nuts

Meats, beans and lentils, fortified cereal, bread, dark leafy vegetables, and baked potatoes

Long-chain polyunsaturated fatty acids

Fatty fish like salmon, fish oils, and many foods are also fortified with them

Meat, dairy, eggs and many vegetables.

Folate (especially important for pregnant mothers)

Liver, spinach, fortified cereals and bread

Seaweed, iodized salt, seafood, dairy products, and enriched grains.

Liver, carrots, sweet potato, and spinach

Vitamin D (aka "sunshine vitamin")

Best way to get this vitamin is outdoors.

Fatty fishes such as salmon, fish liver oil, and products fortified with it, such as fortified milk.

Liver and other organ meats, fish, potatoes and other starchy vegetables, and non-citrus fruits

Meat, fish, eggs, and dairy
Essential Nutrients & What Food Contain Such Nutrients
What Are Some Healthy Ways to Strengthen Your Children's Immune System?
The most important way is to choose a healthy lifestyle. Following general good-health guidelines is the single best step you can take toward naturally keeping your child's immune system strong and healthy. Every part of your child's body, including their immune system, functions better when protected from environmental assaults and bolstered by healthy-living strategies such as these:
Eat a diet high in fruits and vegetables.
Exercise regularly.
Maintain a healthy weight.
Get adequate sleep.
Take steps to avoid infection, such as washing your hands frequently and cooking meats thoroughly.
Bonus Tips on Raising Healthy Children
As mentioned earlier, just eating healthy is not sufficient for your children's physical, mental and social well-being. One key tip is to reduce screen time as it can help improve your children's sleep patterns and overall physical development. Here are the recommended screen time for children of different ages:
| Age | Recommended Screen Time |
| --- | --- |
| | |
| | |
| | Less than 2 hours per day (excluding the time needed for homework) |
When you reduce screen time, you can increase other activities like reading, playing and spending time with your children.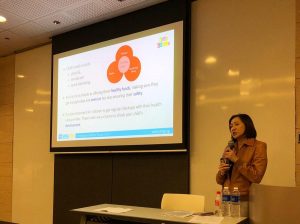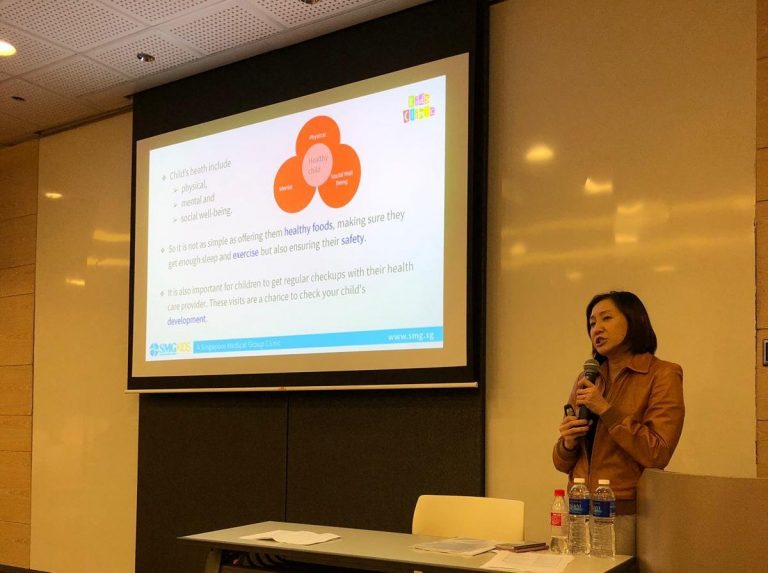 The session ended with this key tip from Dr Oh: You should bring your children to get regular checkups with their paediatrician. These visits are a chance to check your child's development and address any concerns you might have.