Part 3: Preparing Kid-friendly Meals Overseas
Many parents with young kids are afraid to travel with their children as they are worried about the food available overseas. Mumtrepreneur Shiqin shows how you can make local food kid-friendly and has some great tips on what food you can bring along with you.
Shiqin is the founder of Haruplate and her main mission is to help young families eat and live better. Prior to having kids, Shiqin and her husband travelled a lot! However, even after having kids, they continued to travel. In fact, her first-born Oliver took his first flight when he was 5-6 months old. Up till now, she has been to Krabi, Taiwan and Sri Lanka with her family. Therefore, she has a lot of great mum hacks on how to get your children to enjoy food while travelling!
Snacks for Kids During Travel
For a kid, everything new can be possibly overwhelming. It is alright if they are not too fond of new flavours as it will take them some time to adapt to the new tastes. Even though you want to introduce new foods to them, you need to know what they are familiar with and make sure they have that easily. When it comes to getting them to eat while on vacation or travelling, some familiarity is quite key. You can do this by packing some of their favourite snacks like nuts and dehydrated fruits.
Tip! Involve your kids in the packing process by asking them to choose what snacks they would like to bring overseas.
One very easy snack is the fruits your kid likes to eat. These are convenient since you can buy them in the supermarkets, 7/11 and even road-side fruit stalls overseas! Check out what's in season sometimes too! You can opt for fruits that are very easy to eat on the go and do not really require much cutting such as blueberries, grapes and strawberries.
Read more:
Checklist while Travelling with your Kids
Local Meals for Kids During Travel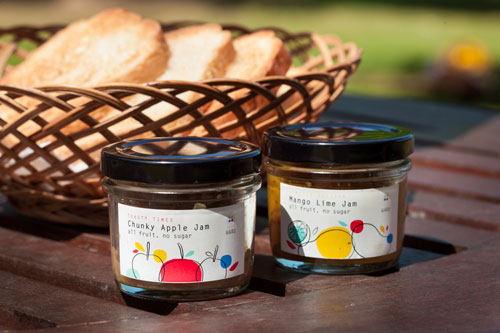 Breakfast can be settled quite easily with foods such as bread with jam or if you want something more nutritious, oats are a good option too.
For lunch and dinners, you can get plain meats or carbohydrates at local eateries. Most restaurants are accommodating when you let them know you are travelling with a kid and often happy to accede to parents' requests to exclude salt or sugar. Shiqin shared that during her trip to Sri Lanka, a lot of the main staples included curries, which are spicy and not entirely suitable for children who are young. Hence, she often requested at cafes and even roadside stalls to prepare the food as per normal but substitute their curries or spices with her own sauces. (She brings her own bottled Haruplate sauces, which are highly travel friendly.)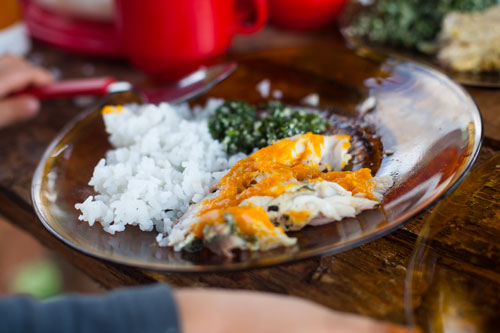 Therefore you can request for plain meats or carbos and get the restaurant (or do it yourself) to stir and incorporate the sauce with the plain meats/carbos. If your kid is already familiar with the taste, sauces like these would serve as the base even when you introduce new ingredients to them. It is basically about balancing something new with something familiar.
DIY A Healthy Meal/Snack for Your Child
There are many ways to make food more than just food. You can elevate and transform the entire experience when it comes to food. One such way is to prepare nutritious and yummy meals for your kids together with them. It would be a fun and entertaining experience for them.
Tip! Let your child make his/her own snack as they will enjoy the snack even more after!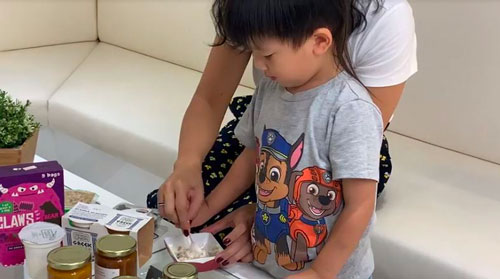 This is an example of a meal that is great for breakfast and tea time. All these items can be easily found in overseas supermarkets, minimarts or 7/11 convenience stores so you do not even have to bring them with you. You can make it easily by mixing all the ingredients together in a bowl. You can bring it with you on the go in the thermos too.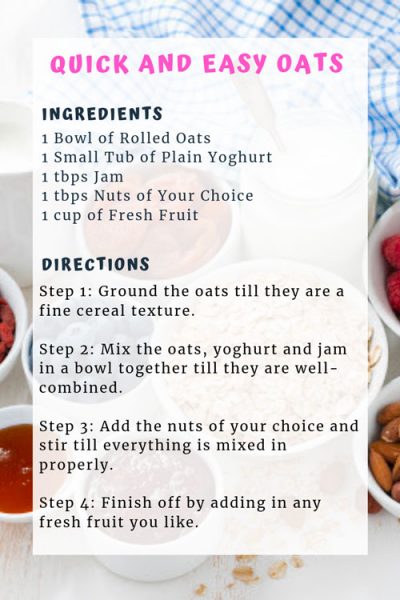 Why Shiqin recommends this snack:
Yoghurt is very healthy as it has protein in it. Nuts are easy for you to bring along with you when you travel and can be eaten on their own as a snack too. Jam, especially her Haruplate ones, come in small and travel-friendly jars. In addition, they are all fruits and sugar-free so they are suitable for children as young as 9 months old. The jams are actually naturally sweetened from the fruit itself.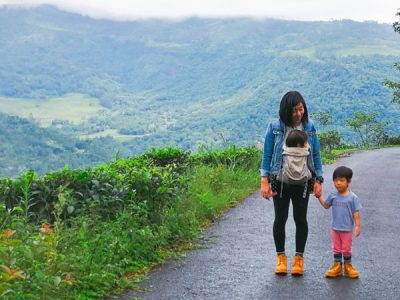 "You are on holiday so you can live a little! You can let your kids have a little bit of sugar, a little bit of ice cream or cake as it is all about moderation. It is okay to just relax and have fun as you are travelling after all!"
– Shiqin Chen