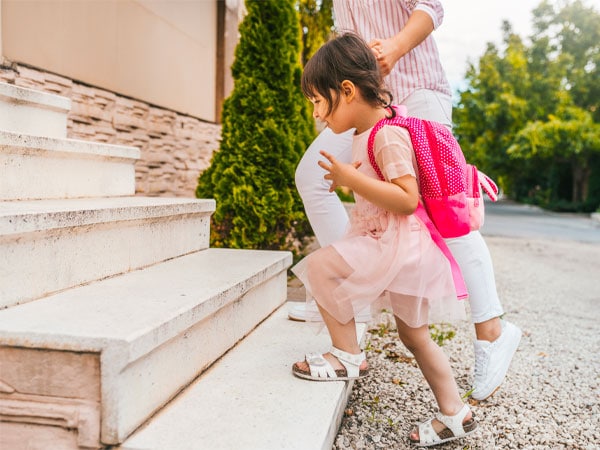 When you were younger, you probably felt nervous on your first day of school, be it primary school, secondary school or even university! The first-day jitters certainly do not go away with age, and this is perfectly normal as everyone feels apprehensive to go out of their comfort zone. It applies to your little ones too as they enter a new milestone in their early years.
Hence, as parents, it's important to reassure your child and help him or her cope with this challenging time, in which they step out of their familiar surroundings (home and family), and spend time in a brand new place with new and unfamiliar faces.
Some children might take longer than others to adjust to new surroundings, so you should be patient with your child. Dr Chua Xiuzhen from Kids Clinic @ Sengkang shares 5 tips on how you can make this transition smoother for your little one!
Tip 1: Prepare Your Child for School
Knowing what to expect helps to decrease the anxiety about uncertain situations. The same applies to your child too. You can therefore mentally and visually prepare your child for school.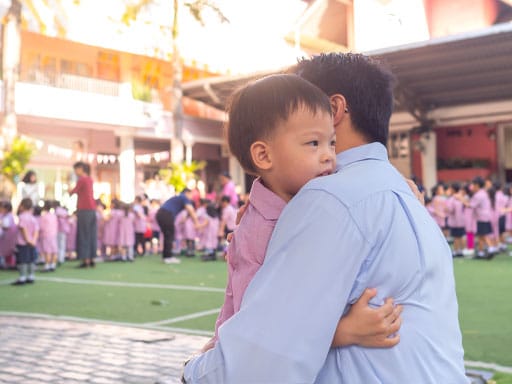 Mental preparation is one of the ways you can ensure your child looks forward to school rather than dread it. You can do this by talking to them about school and all the interesting activities they will get to take part in. Here are a few things you can tell your children to mentally prepare them:
Mummy/Daddy will be handing you to the teachers for a few hours.
You will meet the teachers when you get to school.
At school, you will meet new friends, learn new things and play.
I will pick you up after school and we will go home together.
Then you can share with mummy and daddy about your day in school.
Subsequently, when he/she goes to school, encourage your child to share with you about what they did in school, who their teachers are and all the new friends they made.
b) Visual Preparation
We're all familiar with "recee-ing" a new place that we haven't been to. Similarly, you can bring your child to the school to familiarise them with the surroundings, before the actual start of school.
Tip 2: Reassure Your Child with Loving Goodbyes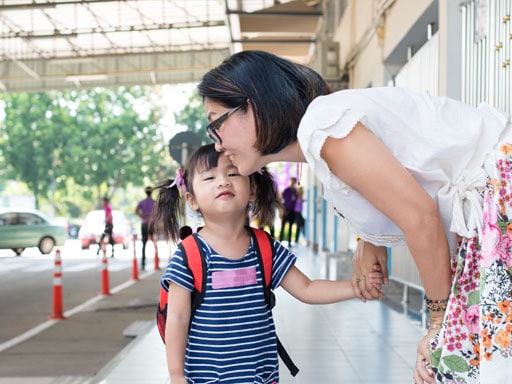 It is important to drop your child off at school on a good note and let them know that you will be back to pick them up. You should try not to linger after saying goodbye but do not forget to reassure your child that you will be back for them after school.
Tip 3: Encourage Your Child to Bring a Comfort Item
Let your child bring something familiar along with them. If the comfort item is a soft toy/blanket/pillow, it is best to check with your preschool beforehand to make sure it is permitted. Alternatively, go on a mini shopping trip with your child to pick out their favourite school essentials e.g. bag and water bottle, so that they have a familiar item that they can bring to school.
Tip 4: Have a Routine
Consistency does decrease anxiety; it helps your child know what to expect. Taking the same route to school, saying goodbye every time and having a regular drop off and pick up time would all help to build trust and confidence.
Tip 5: Do Not Allow Your Child to Skip School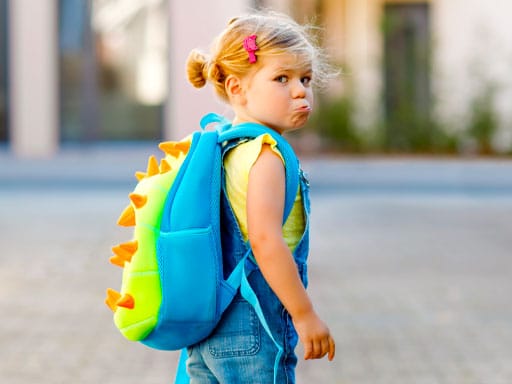 Encourage your child to take the first step to go to school instead of letting them skip school just because he/she is crying and refusing to go to school. Otherwise, your child might think that crying will help them to skip school. However, do find ways to encourage your child rather than scold them.
Manage Your Expectations
It will take time before your little one accepts the change from being at home to going to pre-school. You should give your child time to adapt to this change, and don't stress over it. Children are sensitive to the emotions of their parents, and your stress might affect them negatively. Most importantly, remember that every child is different and will adapt to changes at their own pace. Parents just need to be there, supporting and encouraging your little ones every step of the way!