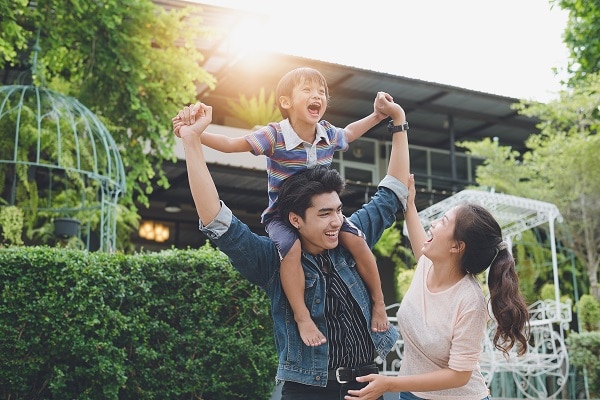 Every time the holidays come around, most parents are cracking their heads thinking about fun activities to fill up all those days ahead! Fret not, as the editorial team at Kids Clinic has you covered. Ranging from craft-related activities to cooking and even exploring our Little Red Dot, here are some of the activities that will be sure to bust the boredom and keep your kids away from the screens!
The weather on our sunny island can be unpredictable at times. On those rainy days when you are cooped up at home, watching movies or playing video games is an easy solution. However, we have put together a list of activities you can do with your children that will not only keep them busy but also improve their cognitive functions and their hand-eye coordination.
Let your kids get creative and let their imagination run wild with this simple and easy homemade dough. Challenge your kids to a fun art competition by creating animals, cartoon characters or silly shapes. All you need to get started is some plain flour, vegetable oil, salt, cream of tartar and food colouring!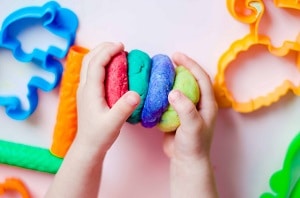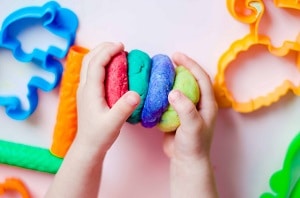 Here is an easy homemade dough recipe by Sassy Mama:
Mix flour, salt, cream of tartar and vegetable oil together in a bowl.
Add 2 cups boiling water to the bowl, 1 cup at a time.
Divide the dough into smaller portions and add food colouring to each portion.
Allow the dough to cool.
Knead the dough for a few minutes to remove its stickiness.
Time to get creative!
Crafting with kids can get pricey but one way to keep your wallet happy and be kind to the earth is to use recycled materials! Take the opportunity to introduce your child to the concept of upcycling and encourage your child to make use of these recycled materials to create their masterpiece. From animals to vehicles, there are plenty of fun objects that you and your child can create using recycled materials. For a start, check out this
website
with your child to get some inspiration!
Board games are not only fun for the family but they can teach your child to set goals and be patient. It is also a good opportunity for you to introduce your child to the idea of victory and defeat, and learn good sportsmanship. Take a look at the list below for some fun board games to get the family to bond with one another:
Uno Junior: An easy-to-learn game with straightforward instructions, this simplified version is great for kids age 3 and older. Teach your kids about colour matching, and basic mathematical concepts while having fun! The best part about this game, it is completely portable. Play it at home, at a restaurant, at a hotel or anywhere really.
Jenga: Perfect for all ages, Jenga is a game that requires mental and physical skill. It is a great game for kids to learn decision-making skills and to improve their hand-to-eye coordination. The rules are simple – build a tower, remove one block at a time and place it on top, while maintaining structural stability. No complicated instructions necessary!
Don't Break the Ice: A great game for preschool aged children, this a light strategy game that challenges players to make critical decisions. This will put your child's hand-to-eye coordination skill to the test as it requires the player to continuously strike the pieces until it dislodges without causing the penguin to fall through. This is a quick and easy game if you need to squeeze in an activity just before mealtimes.
4. Cooking and Baking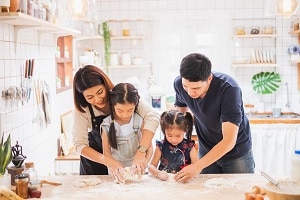 Cooking and baking are wonderful ways to introduce new foods and teach your child how to eat right! Encourage your child's interest and excitement in foods by teaching them how to cook with age-appropriate kitchen activities such as:
Stirring batter in a bowl
Rinsing fruits and vegetables
Cutting soft fruits and vegetables
Mixing and kneading dough
Measuring ingredients
Spreading butter on bread
As your child gets older, you can explore complex recipes which they can complete by themselves, and this can be a major confidence booster. Cooking together can be a fun way to teach your child valuable skills, promote good nutrition and make long-lasting memories in the process. Here are some easy recipes your kids can make all by themselves!
Nothing beats spending the day in the great outdoors basking under the warmth of the sun. Vitamin D is important as is fresh air. Even with Covid-19 restrictions, there are still plenty of things you and your family can do. Read on to find out what some of these activities are.
Going for walks is great for keeping your child active while exploring the great outdoors! With only a land area of 728.6km², our Little Red Dot may be small but there are still many amazing places that our country has to offer to everyone. Therefore pack some sunscreen, a water bottle and maybe a light snack, and get ready for our top kid-friendly trails we found for families to explore together: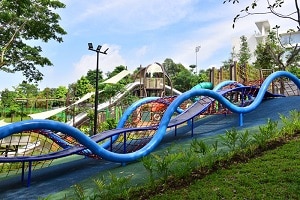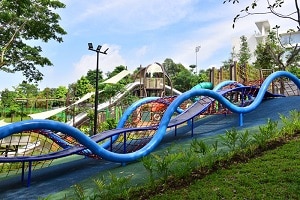 Home to the longest slide, Admiralty Park is situated at Woodlands, in the northern region of Singapore. Apart from being home to the longest slide, the 27 hectares park also houses 25 other amazing slides that cater to children of all ages. Imagine all the excitement going down all 25 slides! There are three main play areas in the park, namely; Junior Play, Adventure Play and the Family Terracing Play. The Junior Play area offers shorter slides, a sand play area, and mini obstacle courses that cater to young children. The Adventure Play Area is where you find the longest slide; a 32-metre long roller slide! Last of all, the Family Terracing Play has multiple long slides and challenging obstacle courses perfect for all adventurous children. If slides and obstacle courses are not your kind of thing, bond with your child on a beautiful walking trail and play a game of 'I Spy'. Best of all, there are no entrance fees and it is open to the public daily. Even though it may seem a bit out of the way for some, we highly recommend a visit to Admiralty Park as it has so much to offer to families of all ages.
Address: 31 Riverside Road, Singapore 730000
How To Get There: 15 mins walk from Woodlands MRT Station; By bus from Woodlands Bus Interchange.
Lighting Hours: 7am to 7pm. No lights in the forested area after dark.
The Jurassic Mile is a metre long adventure track that features over twenty life-sized dinosaurs along the track. A great hit for children of all ages especially those who love dinosaurs, they have an opportunity to get up close and personal to live-like dinosaurs. Here, you can either choose to jog or walk along the track with your child as you enjoy the companionship of dinosaurs by your side. Be impressed by different species of dinosaurs along the way with information panels throughout so you can learn all about these magnificent creatures. The track is open around the clock, and there is no time limit for admission. Find a day to check out the Jurassic Mile with your family and we believe your budding paleontologist would be begging to return for more adventures!
Address: Airport Boulevard
How To Get There: Alight at Changi Airport MRT Station and follow on-ground signs towards Terminal 2, then onwards to HUB & SPOKE cafe.
You may then take a 2km walk or cycle to Jurassic Mile. Bicycles can be rented from the HUB & SPOKE pit stop outside Terminal 2.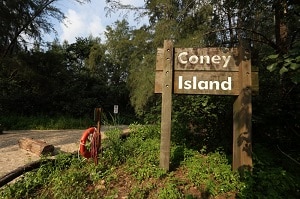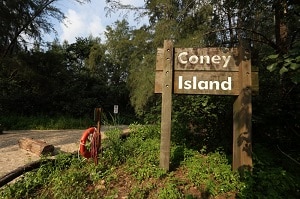 Located in the north-eastern region of Singapore, this tranquil little island houses a wide variety of habitats such as coastal forests, mangroves and grasslands which many species of flora and fauna called home. Being home to a myriad of plants and wildlife, Coney Island is a wonderful place for your child to explore and learn about nature. Despite being located just 500 metres away from Punggol Settlement, Coney Island feels like a world away. While there are proper pathways and park connectors on the island, there are also rugged terrains which will be slightly difficult for young children. Looking for a place to take a breather after walking through Coney Island? Have a go at the Casuarina Exploratory nature playground with your child to develop his motor skills, and learn about problem-solving. There are wooden bridges to step across, and little triangular log fences for adventurous ones to climb over. So pack your bags and add Coney Island to the list of places that you would love to take your child to today!
Address: Beside Punggol Promenade Nature Walk
How To Get There: From Punggol interchange, take bus 84 to Punggol Point Park/Punggol Settlement. Walk about 500m east along the Punggol Promenade Nature Walk to get to Coney Island Park West Entrance.
Lighting Hours: 7am to 7pm (Gates will be closed at 7pm)
There you have it, our best fun-filled boredom-busting family activities. These activities will not only fight boredom but will also challenge their minds and muscles while strengthening their bodies and releasing all that energy! Do not forget to continue staying safe and practising good hygiene (especially when you are out and about). We hope you have the best time with your children!