Part 4: When Your Child Falls Sick Overseas
When your children fall sick, it is always a rough time. If you are travelling overseas, it is even scarier as you are not in a familiar place. Mumtreperneur Meiyue, who has experienced this before, has some great advice on what to do in such a situation.
Meiyue is a mum of 2 and also the founder of Lil' Baby Bakery where her goal is to prepare practical and beautiful gifts for mums and babies.
Personal Experience
During a family holiday to Bintan, Meiyue's daughter fell ill with a high fever.
Fortunately, having prepared her "arsenal of tools" she was able to monitor her child's temperature with the thermometer she brought along and feeding her fever medicine that she also packed with her. As soon as they came back to Singapore, they went to see a doctor for a check-up just to ensure that nothing was wrong.
Life-savers to Pack for Your Trip
When you are travelling with your children, ensure you have a small travel health kit with you. Items you must include would be a thermometer, medicines for fever, cough and cold, diarrhea and allergy medication if needed (these can be either purchased at the pharmacy or customised with your paediatrician). It always helps to be prepared so that when your child falls sick overseas, you would not be scrambling to find suitable medication in a foreign place.
Be Flexible to Change Travel Plans
If your child falls sick, changes in your itinerary are inevitable. Activities like swimming and anything that is outdoors under the sun would need to be cancelled. Your child would likely need to rest indoors for either half a day or even a whole day. If your child is feeling better and bored from staying indoors, you and your family can go for a short walk for a change of scenery. This will help to improve everyone's moods.
Tips for Parents When Your Child is Sick
1. Care for Yourself First
As parents who will be taking care of sick children, the most important thing to remember is to remain calm so that you can care for your children well. Here are some steps you should take:
Have sufficient rest by sleeping whenever you can
Eating on time so you have plenty of energy
This is essential so that you can have the physical, mental and emotional capacity to tend to a sick child.
2. Observe Your Child's Behaviour
When children are sick, they naturally get more tired and cranky. However, being children, they are not able to express how they are feeling clearly. As parents, you have to take note of their behaviour. Some signs you should look out for are when they are constantly rubbing their eyes, or simply staring blankly into space and are not interested in what is going on around them. These are just some signs to indicate that it is time to head back to the place you are staying at, as otherwise, it will just be a tantrum or meltdown waiting to happen.
3. Personal Favourite Activity When Child Falls Sick
As Meiyue's children love reading, she always packs storybooks along for her trip. Therefore, when her children are feeling ill or even cranky and tired, she can let them do some reading. A good story is an excellent way to get them to quieten down and more often than not, it puts them in a better mood.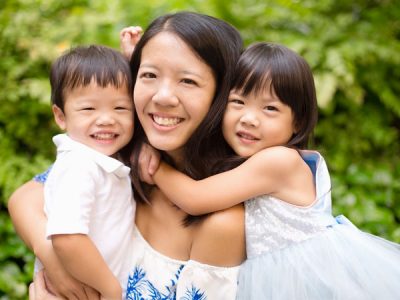 "As long as you are well-prepared and flexible, you will be able to handle challenges like your child falling sick overseas without any issues. Ultimately, keep in mind that no matter what, as long as your children are feeling happy and calm, everyone around them will feel the same too!"
– Meiyue Chen